Upland Hunt  -  FULL!
Deep Creek Lake, MD
October 26 - October 29, 2023 
Includes:
 * Three nights lodging - Beautifully Furnished Mountain Home "Summit Ridge" Deep Creek, MD
The home has 5 bedrooms, 4.5 baths, hot tub, indoor swimming pool, pool table and an outside firepit.
 * Guided Upland Hunt for 4 chukars and 2 pheasants, 4:1 hunter-to-guide ratio and pointer 
 *  Five Stand - 25 targets
 *  Breakfast Saturday & Sunday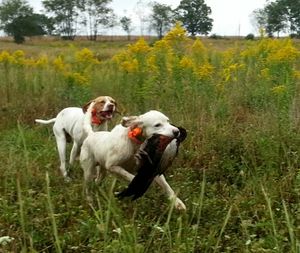 *  Bird Cleaning
Not Included in cost:  shells, gratuities for hunt, meals other than what is listed above.
Event Details:
Thursday:
4 pm check-in Summit Ridge Mountain Log Home - Deep Creek, MD, settle in to this beautiful, fully furnished log home atop WISP Mountain located in the Highline Community. 5-8 pm - social time, dinner-dine in/ bring a dish to share or enjoy dinner out.
Friday: The Day is wide open to enjoy Deep Creek Lake area and activities. For those interested in horseback riding, Circle R Ranch is about 15 minute drive from our lodging and offers acenic trail rides. 301-387-6890
Saturday: 9:15am - Depart for On-Point Outfitters - approximately 30 minute drive. Each hunter must have 250 square inch of hunter orange combined on head and chest. Shotguns-maximum bore size is 12ga and shell & shot size limited to  2 3/4 #5 .
*** FIOCHI Hunt Shells available for 12 & 20 gauge upon request.
10:00 am - Five Stand
10:30 am - Upland Hunt,
Saturday late afternoon/evening dinner - at our leisure
Sunday: Depart by 11 am
If You'd like to join us for the Upland Hunt Only - The cost is $185 and includes 2 pheasants, 4 chukars, guide, dog and bird cleaning.
For additional information & to pay by check email cevent@verizon.net
240-321-1736